Yes or No to politics in the classroom
Details

Published: Wednesday, 10 September 2014 12:56
From the Guardian.
Scottish referendum: is it yes or no to politics in class?
Some Scottish schools have not debated the issues over independence. Have pupils who will be voting missed out?
l
Scottish Universities and the referendum
Details

Published: Monday, 31 March 2014 13:45
A look at the debate on Scottish independence in the University sector in Scotland. Published in 
the Education Guardian on March 25, 2014.
.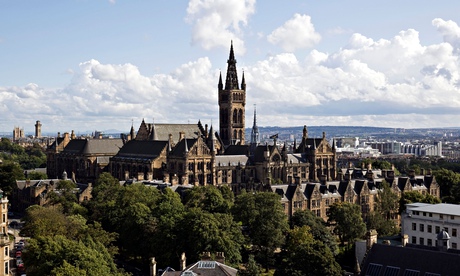 Glasgow University: many of the reservations about independence are based on fears over research funding Photograph: Alamy
Read more: Scottish Universities and the referendum
Propaganda war: who will win Scottish teenage hearts and minds?
Details

Published: Tuesday, 18 June 2013 11:48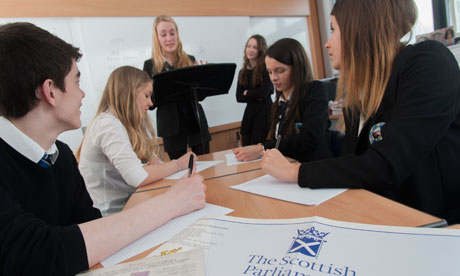 Pupils at Glasgow's Douglas Academy debate Scotland's independence ahead of next year's vote. Photograph: Martin Hunter
Rosie Duthie and Euan MacIntosh, both 15, have made up their minds on how they plan to vote in next year's referendum on Scottish independence. For Euan the answer is a clear "yes" because he believes it will be his best guarantee of a free university education. Rosie is a "no". She says: "We should be arguing that what we think is better for the future of young people in Scotland is better for England too and for the European Union."
Read more: Propaganda war: who will win Scottish teenage hearts and minds?
Scots students get their Higher results
Details

Published: Friday, 09 August 2013 11:03
Published in the Education Guardian, August 6 2013

Their exam system may differ from the one in England, but Scottish students face the same anxious wait for their results. Jackie Kemp takes a closer look at Highers and university entrance north of the border
The new Scottish national curriculum will emphasis research and thinking skills

Today, across Scotland, young people will be whooping or groaning as the results of their endof - school exams, the Highers and Advanced Highers, are revealed. "The people who do really well will post them on Facebook," says student Ellie Small, "and some of those who do really badly might post them for comedy value, but I don't think I will be posting mine. I'm really nervous. The closer it gets, the more I feel I won't have got what I need."

"Worrying" dip in language learning in Scots schools
Details

Published: Monday, 29 April 2013 14:16
By RORY REYNOLDS AND JACKIE KEMP 
Published in The Scotsman newspaper on 29/04/2013 00:00 
FOREIGN language learning in Scotland's schools has dipped to "worrying" new levels, education experts warned last night. The warning that the decline will have an negative impact on Scotland's standing in the world came after it emerged that only about one in ten S5 pupils is taking foreign language courses.
 An analysis of education statistics by The Scotsman has found the number of Higher course entrants for modern languages has fallen by nearly a quarter over the past 20 years, from 10,179 to just under 7,887 in 2011.
Read more: "Worrying" dip in language learning in Scots schools