Professor John Orr, teacher and writer
Details
Published Date: 29 October 2010
By JACKIE KEMP
Professor John Mackinney Orr, teacher and writer.


Born: 26 July, 1943, in Gillingham, Kent.
Died: 8 September, 2010, in Dirleton, East Lothian, aged 67.
A thinker, a talker and an intellectual free spirit, as well as a teacher and a prolific writer, professor John Orr, Professor Emeritus in the School of Social and Political Studies at Edinburgh University, leaves many gaps with his sudden death at the age of 67.

One of those will be in the cafe of the Edinburgh Filmhouse where the internationally known film theorist often sat in lively discussion with students or fellow cineophiles, chewing the fat over what they had just seen. On 13 November, the Filmhouse is to show a tribute screening of one of his favourite films - Ingmar Bergman's Winter Light.
Read more: Professor John Orr, teacher and writer
Football is generation game for Hibs Family
Details
Evening News October 4 20010. by Jackie Kemp.
THERE have been good times and bad over the years but, up or down, win or lose, there are few games that John Rudden has missed at Easter Road since he first walked onto the terraces holding his dad's hand on a Saturday afternoon in 1936.
Not many of the familiar faces he first saw at games are still there, but the 79-year-old lifelong Leith resident is now joined by a new crew of fellow season ticket holders - two of his grandsons and two great-grandsons.
My 16-year fight with the NHS... and why my brave little boy deserves his millions
Details
The piece tells the moving story of how mother Pauline Mckenzie with the help of her lawyer Ken Lauder won the biggest-ever damages in a medical negligence case in Scotland for her birth-injured son Kyle after a 16-year legal fight.
It appeared as an exclusive in the Scottish Daily Mail on September 18 2010 By Jackie Kemp and Gavin Madeley.
pic by Murdo MacLeod
A good egg
Details
Mail on Sunday magazine
Hens adore mushroom risotto. They are also keen on asparagus stems and the tops of strawberries. They are more curious than the cat and make a dash to get in the house whenever the back door is left open. Hens have a compelling stare, sometimes they jump on the kitchen windowsill and look down their beaks at me.

Like many in Britain, we recently enlarged our household by adding a trio of hens. Their eggs provide a source of relatively low-calorie protein and
nutrient-rich food. If they are well cared-for and given a varied diet, they can produce eggs that are even better for you than shop-bought ones.

I asked scientists at Heriot-Watt University in Edinburgh whether they would analyse half-adozen eggs produced by my hens and half-a-dozen free-range ones from the big five supermarkets – and the results were astounding. They clearly showed that our eggs were significantly higher in protein and minerals. They appeared to have denser, heavier yolks, which is where most of the nutritional content of eggs is.
(continues) DOWNLOAD THIS ARTICLE ON PDF
Jamaican scientist opens doors for African-Caribbean children
Details
The Guardian, Tuesday 28 September 2010
Jackie Kemp meets the professor of brewing who is working with Benjamin Zephaniah to excite black students
http://www.youtube.com/watch?v=S6MogWTJKKc - paste into google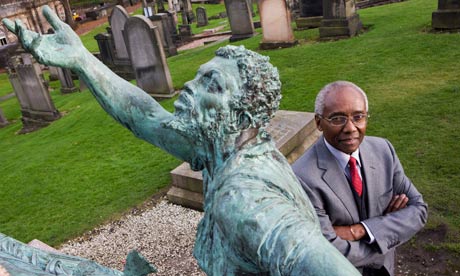 Read more: Jamaican scientist opens doors for African-Caribbean children
Scots Unis Expand in Middle East
Details
From the Education Guardian
Scottish universities are breaking new ground this summer – literally – as work begins on Heriot-Watt's bespoke £35m campus in the Middle Eastern state of Dubai.