SpongeBob takes the curriculum by storm in Scotland.
Details
What should be in the curriculum? Thanks to a cutting-edge initiative at a Scottish school, SpongeBob SquarePants, Dr Who, The Titanic and Famous People are currently taking top billing in the classroom.
From the Education Guardian, June 15 2010 with added material which did not appear in the published article.

 Photograph: Murdo MacLeod for the Guardian.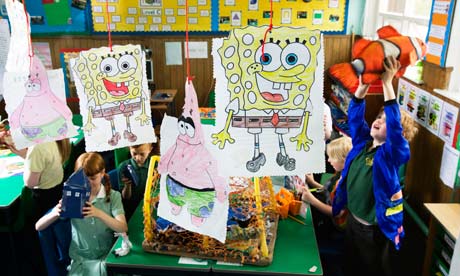 St Mary's primary in Leith, Edinburgh, is taking advantage of wide freedoms under the new Scottish Curriculum for Excellence to allow the children to choose their own topics as a jumping-off point for learning.
The use of topics as Trojan horses for smuggling maths, literature and science into children's heads has been popular since the 60s, but in the recent past much more detailed national curriculums both north and south of the border made it harder for schools to do this and gave them a more limited choice of themes.


Read more: SpongeBob takes the curriculum by storm in Scotland.